Explorer Dome at 'Inspire'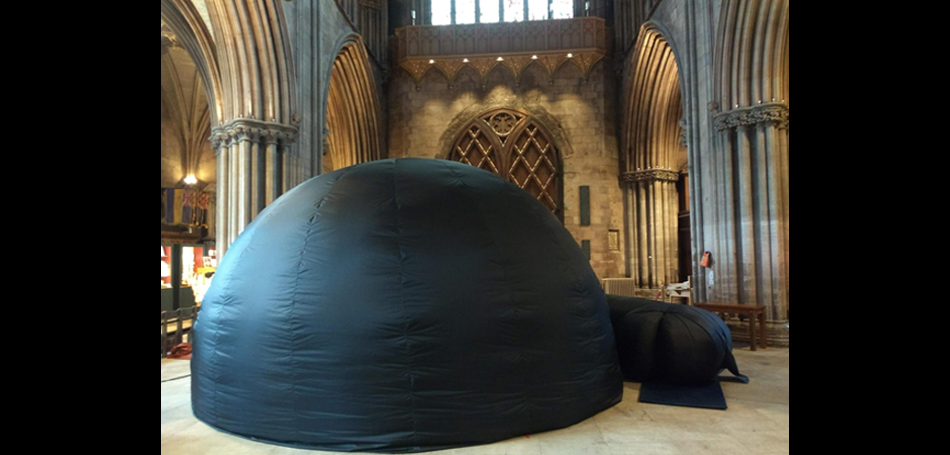 One of the greatest benefits of working in a mobile planetarium is having the privilege of visiting some unusual and beautiful places. While we have put up our domes at some impressive venues in the past, including music festivals, weddings and even the Albert Hall, as far as stunning settings go the 800-year-old gothic splendor of Lichfield Cathedral takes quite a bit of beating.
We came to the cathedral to take part in Inspire, an annual program at Lichfield Cathedral which includes a series of themed activities for schools in the diocese, this year's theme being 'Journeys through Space, Time, and Light'.
Children were invited into the cathedral to explore its history, discover the science of sound with the help of the Cathedral organ, travel to Bangladesh, and (courtesy of Explorer Dome) journey back 13.8 billion years to the beginning of the Universe.
We welcomed hundreds of children into the dome across the three weeks of the program, and adapted our typical KS2 and KS3 Space shows to inspire some big questions: How big is the Universe? Where do stars and planets come from? Could there be life on other planets?
The cathedral was the perfect setting to ponder these big ideas, and we are delighted to be able to bring this experience to even more people later this year.
We will be returning Lichfield Cathedral this summer and opening up our Journey to anyone who is interested, as part of an exciting events program which includes an art installation allowing visitors to walk on the moon, a film festival, and a lecture from Reverend Professor David Wilkinson.Full details can be found at https://www.lichfield-cathedral.org/journeys - we hope to see you there!